Okay so I logged into UCAS before and well I got an unsuccessful from MMU, which I have stated before was my first choice. :( I was initially a little upset and shocked with how quickly they came to that confusion, but I always had an incling that I might not get in. The demand for a place on the illustration course and other art and design ones was so high this year, they probably had to chose 30 places out of like 200. I've been told by others that MMU are very dissmissive in this way so I had to be realistic about it. Part of me wondered if my artwork wasn't good enough or if they didn't like me in the interview, but who knows. You can try and contact them to find out the reason but I don't really want to.
But I have to look at the positives; I'm most likely going to go to UCLAN, now, my second choice. I think I was mainly keen on MMU coz it would be the most convinient, I'd be closer to friends, my bf, work, etc and living in town would have been sweet. But in terms of the course and the atmosphere my heart was telling me to go for UCLAN. MMU was really intimidating and I felt more at home at UCLAN who were friendlier. The studios and actual uni looks better too, so I'd probably work better in that environment. So this could be a blessing in disguise really, I might not have been happy at MMU. Also, UCLAN is 51 in the guardian list of unis for art courses...MMU is 61. ;o Aha, not like I take notice of those things, but it says something I guess. Plus it would be more exciting to move to a different place entirely, but it's also only an hour, actually less on the train back home. So I should just be happy to go there really, which I am. :)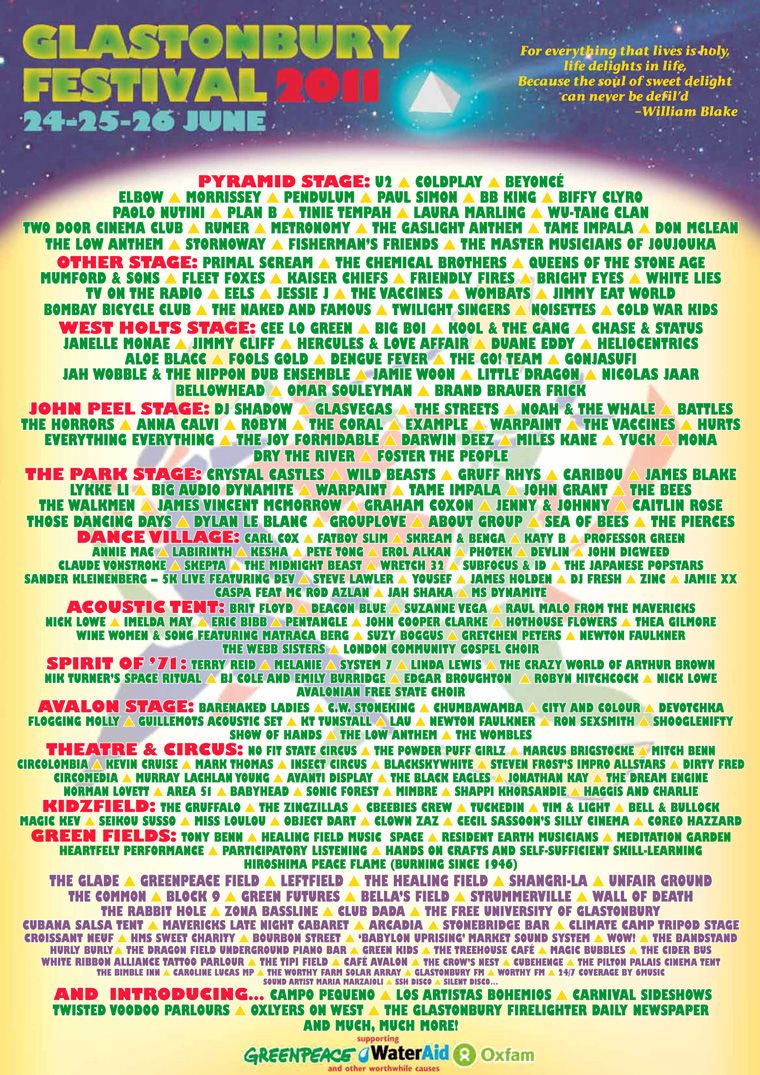 Before all this, I was in a very good mood today as the full Glastonbury lineup has been announced and it's looking pretty sweet!
I'm really suprised and way excited for QOTSA! I totally wasn't expecting that, so glad, especially since the academy gig sold out. I still haven't seen them live! Definitely the best out of the headliners (Screw U2 and Coldplay...). I'll also be looking forward to Warpaint, Crystal Castles, Wu Tang Clan, Battles and others. Bring on June to start summer. :)